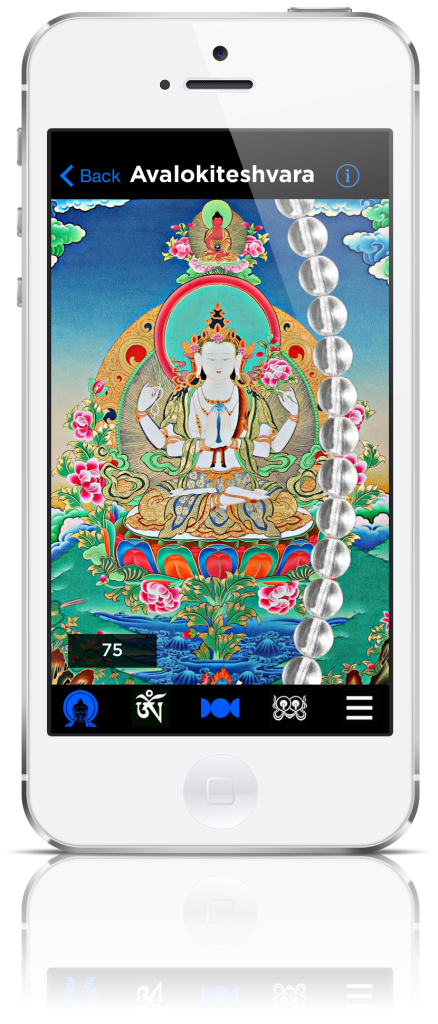 Would you like to generate positive vibrations and spiritual blessings any place and time? Download Buddhist Mantra Mala to turn your iOS device into a tool for making merit and keeping track of all your mantra recitation totals.
Use Buddhist Mantra Mala as a set of virtual prayer beads. Tap the screen as you recite each of your mantras – the mala advances by one bead and automatically keeps count of your accumulations. Edit the total to include recitations performed elsewhere.
Switch to the scrolling text mode to turn on an electronic prayer wheel – with adjustable speed capable of sending out thousands of mantras per minute. Select the plain background screen in order to count mantras more discretely – on the train, waiting in line, or anywhere you happen to be.
Buddhist Mantra Mala comes packaged with ten of the most popular Tibetan Buddhist mantra practices. Each one includes a high quality thangka image and inspirational audio recording that you can chant along with.
Add your own personal practices easily by selecting any deity image and audio track from your mobile device or download more from the app's support website or anywhere else on the Internet. Choose between a variety of mala bead types and background colors. Every mantra set is fully editable.

Here are just some of the app's features:
Adjustable mantra scrolling speed
Select between Tibetan and Romanized mantra text
Automatically keeps track of mantra totals
Audio tracks for each mantra
Add unlimited additional practices
Edit any mantra as you like
Choose between 12 different types of mala beads
6 different background colors available
Import any image or audio track from your mobile device
Buddhist Mantra Mala includes mantras of these 10 popular Tibetan Buddhist deities:
Amitabha
Avalokiteshvara
Green Tara
Manjushri
Medicine Buddha
Padmasambhava
Prajnaparamita
Shakyamuni
Vajrapani
Vajrasattva